The foundational tool, the pen, empowers you to draw routes with ease. Seamlessly extend your routes by dragging endpoints. Activate "Snap to Road" for effortless alignment with roads and trails.
Note: Access sub-tools ("Draw New Routes" and "Change Route Colors") by re-selecting the "Draw Routes" tool.
Employ this tool to trace new routes across the map. Diversify your mapping endeavors by incorporating multiple routes on a single map.
Facilitate route differentiation by utilizing this tool to alter route colors. A simple tap on a route colors it in the selected color (see Color Selector).
Craft routes based on your live location. Initiate or conclude location tracking at your convenience.
Snap to Road is also working seamlessly with GPS Tracking.
This versatile tool empowers you to selectively erase route segments or partition a route into distinct trajectories.
Effortlessly augment your routes with waypoints, utilizing this tool to seamlessly add and modify these pivotal markers.
With this tool activated, trace your finger along a route to unveil the corresponding location on the elevation profile.
Activate this tool to manipulate the map through panning, zooming, rotation, and tilt without interacting with routes or waypoints.
Note: No matter which tool you are using, familiar navigation gestures like panning, zooming, rotation, and tilt remain accessible – except when interacting directly with a route, route endpoints or waypoint.
Optimize route precision by activating "Snap to Road," a feature that seamlessly aligns routes with adjacent roads and trails—ensuring effortless mapping even along footpaths.
Center the map on your present location.
Customize your mapping view by selecting from a diverse array of map types.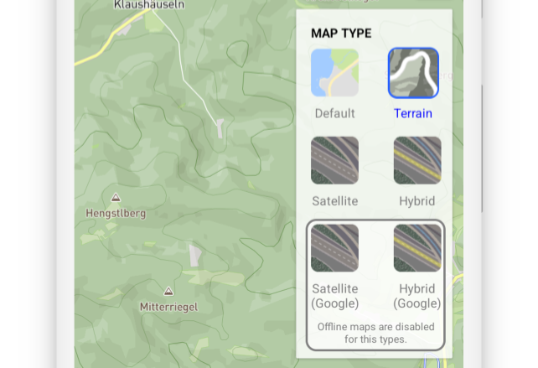 Effortlessly revise your route and waypoint modifications, thanks to the versatile Undo and Redo tools.